一个是来自公元前的精神信仰。
  
  一个是当下消费时代的卡通形象。
  
  赵一浅的全新艺术创作系列挪用并叠加这两个来自不同时代的象征,塑造出一个全新的"偶像"——new idol。
赵一浅 Zhao Yiqian
NEW IDOL
2019 ART CHENGDU国际当代艺术博览会
2019 ART CHENGDU INTERNATIONAL CONTEMPORARY ART FAIR
展览现场 Exhibition View

  "偶像"最初原本是人为神创造的形象,用来寄托人类难以安放的欲望和无法避免的苦难,一个精神乐园。
  然而工业革命后,生产力飞跃带来个人主义的兴盛,我们淡忘了神,消费成为新的伊甸园,购买带来满足,娱乐刺激感官。
  艺术家用这个全新的偶像形象"new idol"来表达自己的态度。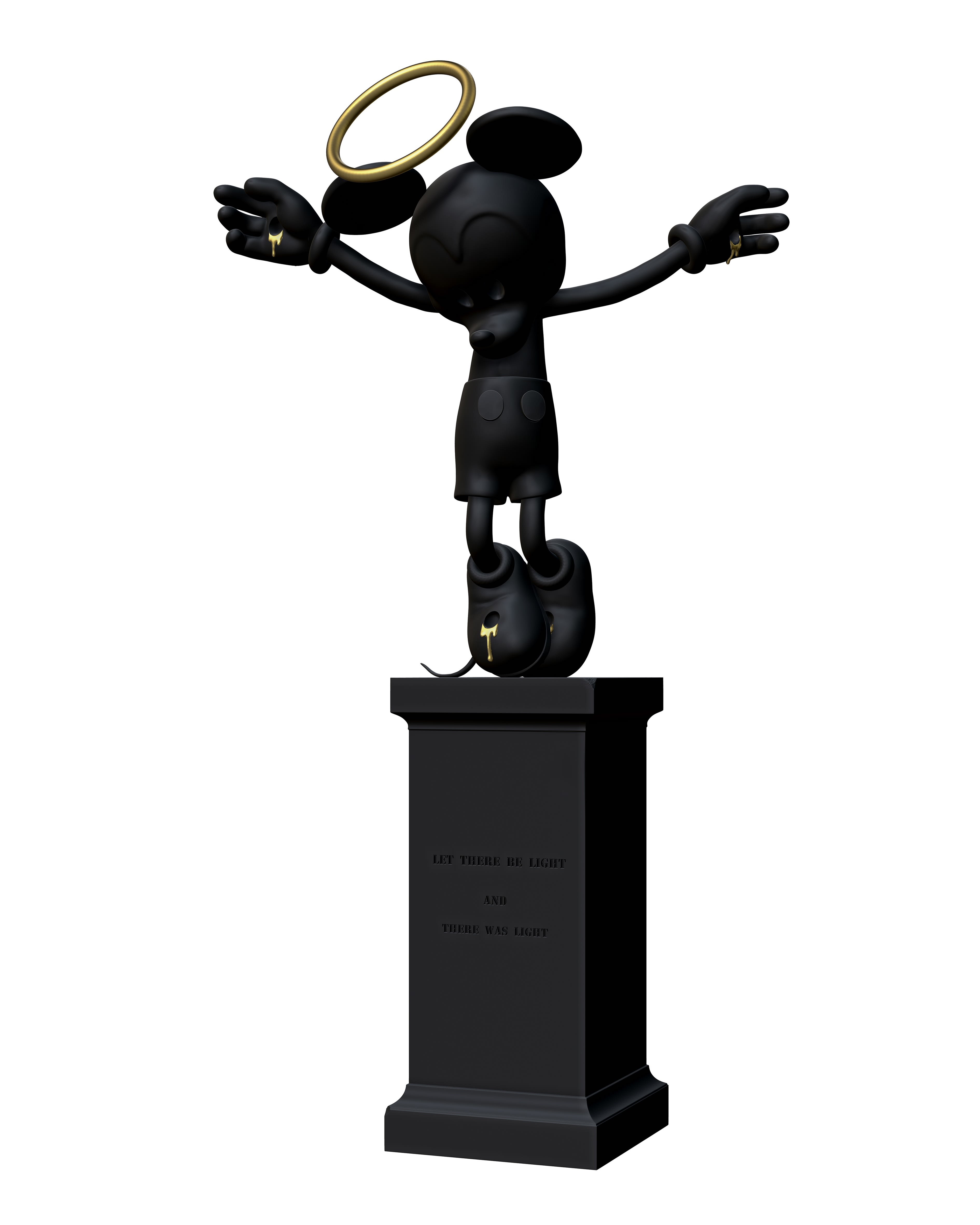 赵一浅 Zhao Yiqian
NEW IDOL
铜着色装置,Coloured Copper Installation
版数 Edition:16, 230cm高, 2019
  结合现代3D技术及古典主义艺术语言的"new idol"带来关乎精神与信仰的多重隐喻:圆滑可爱的外形、负重的肩胛骨,因疼痛而用力的脚趾和松弛的身体,光芒与升腾的力量,"new idol"形象看似玩味的背后,是对隐忍,救赎与爱的肯定。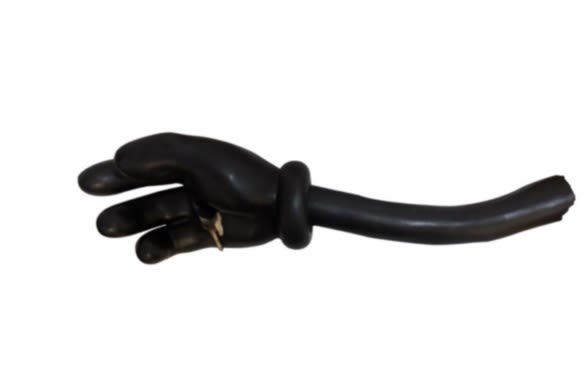 赵一浅 Zhao Yiqian
指引
铜着色装置
Coloured Copper Installation
版数 Edition: 16
宽: 100cm 2019
  
  神性是克制,是平等,而消费是放纵与贫富的差距,所以当代人真的不需要精神偶像吗?
  
  这是赵一浅对观众提出的开放性问题,也是对当下时代的批判。
关于艺术家: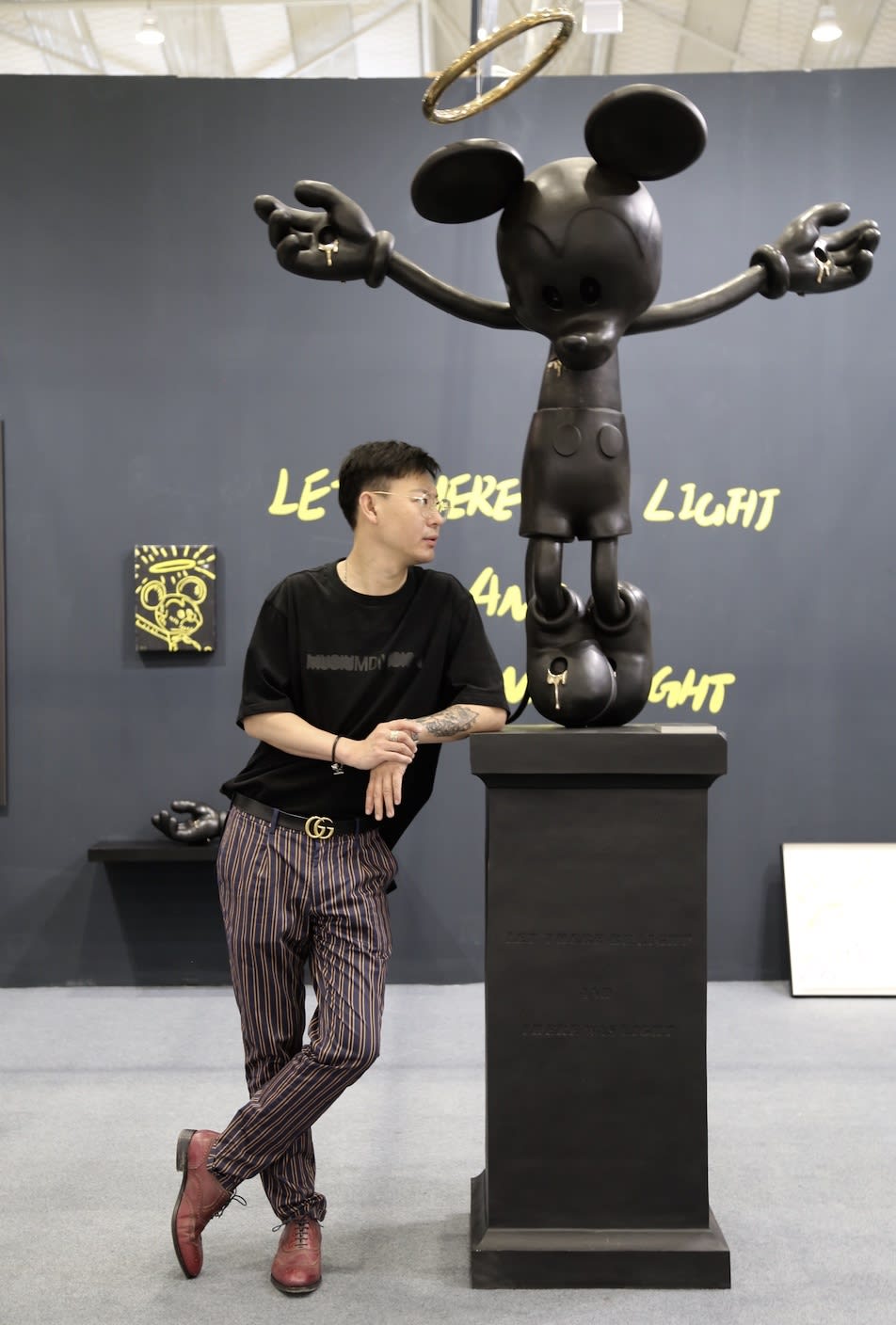 赵一浅 Zhao Yiqian

  1982年 出生于辽宁沈阳
  
  2006年 毕业于中央美术学院壁画系
  
  现生活工作于北京
  
  近期部分个展:
  
  2019 2019 ART CHENGDU国际当代艺术博览会,成都,中国
  
  2018 Neo-Classical interpretation of Minimalism, SU Gallery, 首尔, 韩国
  
  2016 Deja-vu 狮语画廊,香港,中国
  
  2015 一个看似熟悉的地方 今日美术馆,北京,中国
  
  近期部分群展
  
  2017 游园,谷仓艺术中心,深圳,中国
  
  2017 寓言,艺.凯旋艺术空间,北京,中国
  
  2015
  
  非形象-叙事的运动,上海21世纪美术馆,上海,中国
  
  "美丽新世界"南京国际美术展,南京国际展览中心,南京,中国
  
  目光所及.后金融危机时代的中国新绘画,泰勒基金会,巴黎,法国
  
  放大.后金融危机时代的中国新绘画,重庆长江当代美术馆,重庆,中国 2014年
  
  目光所及.后金融危机时代的中国新绘画,保利博物馆,北京,中国
  
  锐10-中国新锐绘画奖十周年邀请展,hi艺术中心,北京,中国
  
  这是圆,还是圈?,D-space,北京,中国
  
  获奖:
  
  第三届Terna 艺术奖,意大利,罗马
  
  部分收藏:
  
  澳大利亚白兔基金会(澳大利亚)
  
  香港M+视觉博物馆(香港)
  
  收藏家乌利·希克(瑞士)
  
  收藏家刘刚(中国)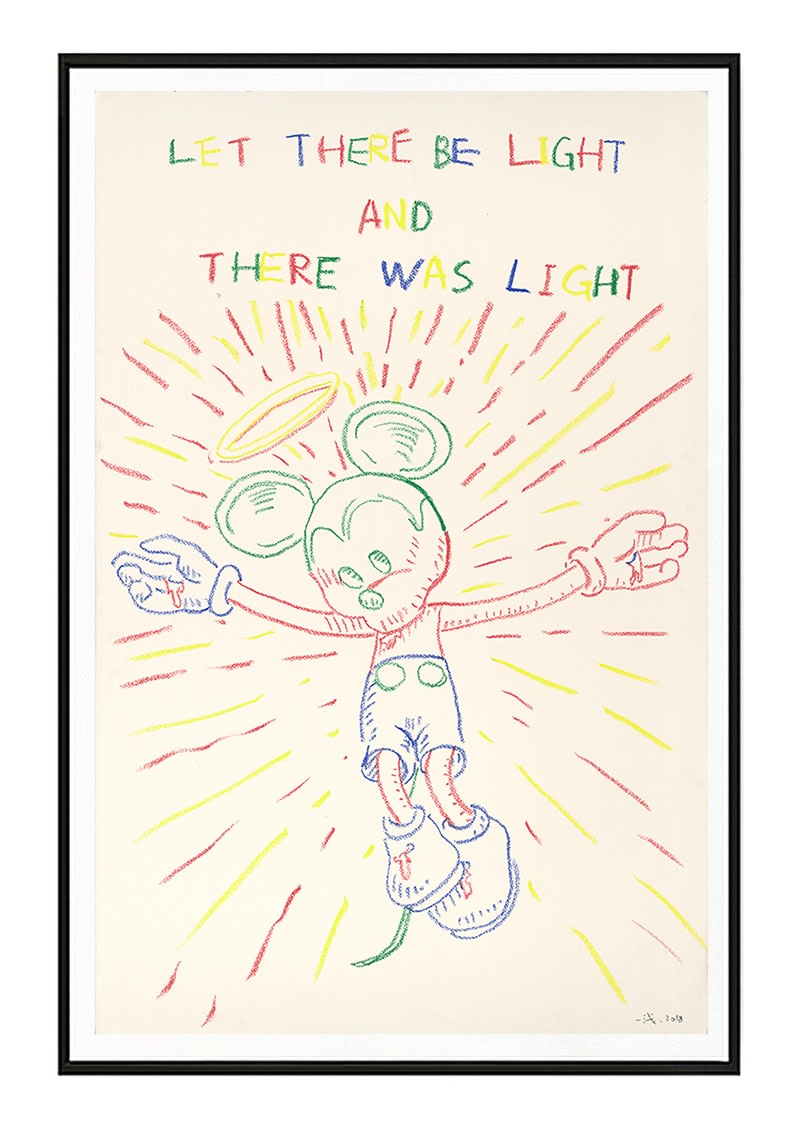 赵一浅 Zhao Yiqian
NEW IDOL
纸本综合材料,Mixed Material on Paper
外框 Frame:78.5 x 113.5cm
画芯 Painting within the Frame:66 x102cm,2018

  It is the image of spiritual belief from centuries ago.
  
  It is also the image of cartoon in the era of consumption.
  
  Artist Zhao Yiqian's newest work series has appropriated and combined these symbolic images of two different eras, creating a new "Idol" - new idol.
  
  Originally, "Idol" was created by human beings, in order to enter a spiritual paradise where the unsettling can be settled and the unavoidable can be avoided.
赵一浅 Zhao Yiqian
NEW IDOL
数码图片,铝塑板打印输出
Digital Print on Aluminum-plastic Panel
版数 Edition:10 ,150cmx120cm,2018
 
  However, after the industrial revolution, the leap of productivity brought about the rise of individualism. The gods are forgotten, and consumption has become the new Eden. Purchasing leads to satisfaction, and entertainment stimulates the senses.
  
  The artist uses the work "new idol" to express his own attitude.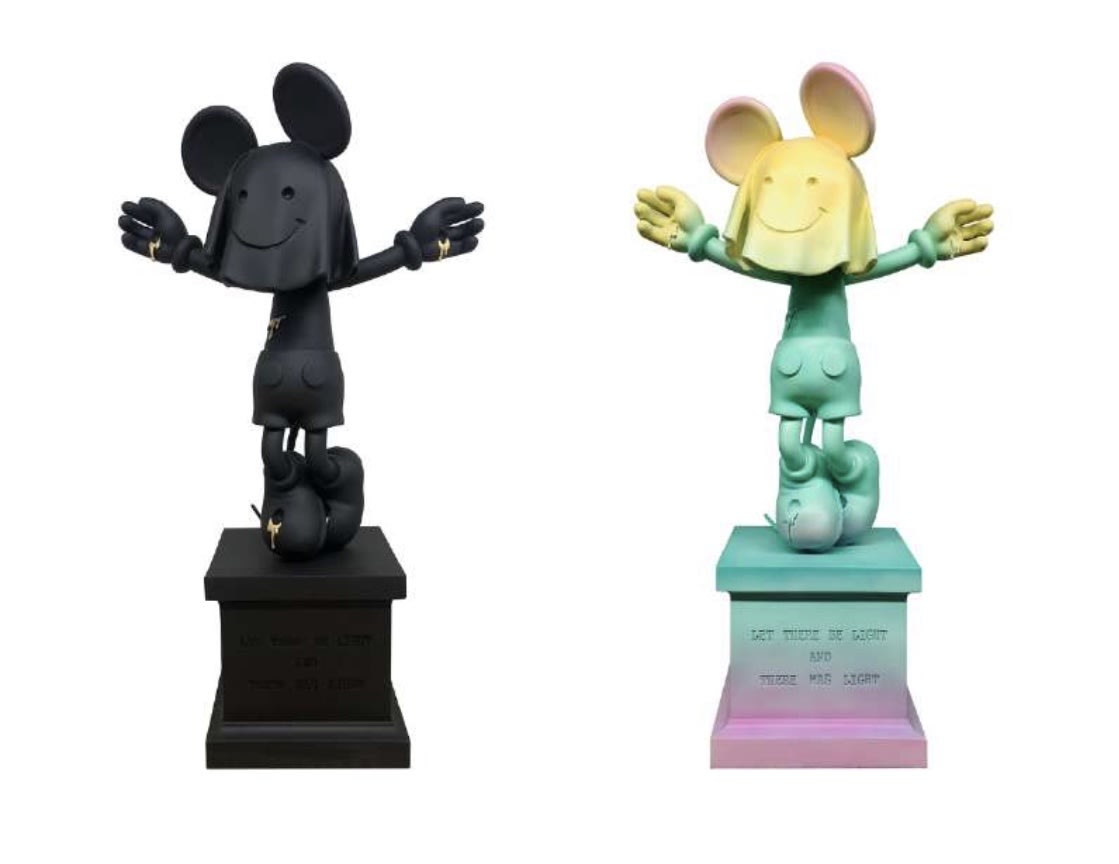 赵一浅 Zhao Yiqian
NEW IDOL
雕塑 宝丽石 Sculpture: Artificial Stone
版数 Edition :999
高 Height: 45cm,2019

  With modern 3D technology and classical sculptural language applied, "new idol" creates multiple metaphors that are related with spirituality and beliefs: its sleek and lovely shape, its shoulder that is bearing a heavy burden, its toes struggling in pain, its obese body, its halo and inner power. The intriguing appearance of "new idol" express its own forbearance, redemption and affirmation of love.
  
  Divinity is restraint, equality, while consumption brings about gaps between the rich and the poor. Do contemporary people really do not need spiritual idols?
  
  This is Zhao Yiqian's open question to the viewer, as well as his criticism and reflection on the modern age.
About Artist:
  
  1982 Born in Shenyang, Liao Ning Province, China
  
  2006 Graduated from the Central Academy of Fine Arts Beijing,
  
  China Work and live in Beijing
  
  Selected Solo Exhibition
  
  2019 2019 ART CHENGDU INTERNATIONAL CONTEMPORARY ART FAIR,Chengdu, China
  
  2018 Neo-Classical interpretation of Minimalism, SU Gallery, Seoul, Korea
  
  2016 Deja-vu ,leo gallery ,HongKong,China
  
  2015 Deja-vu ,Today Art Museum, Beijing, China
  
  Selected Group Exhibitions:
  
  2017
  
  PLEASANCE,Barn for Contemporary Art,ShenZhen,China
  
  Allegory,Triumph Art Space,Beijing, China
  
  2015
  
  Non image-Narrative movement,21th century Shanghai Art Museum
  
  "A beautiful New World"— The 2nd NJIAF (2015) Exhibition, Nanjing International Exhibition Center, Nanjing, China
  
  WITHIN SIGHT- Chinese new Painting At Post Financlal Criss Era, Foundation Taylor, Paris, French
  
  BLOW-UP Chinese new Painting At Post Financlal Criss Era, Museum of Contemporary Art, Chongqing, China
  
  Honors:
  
  Premio Terna,Rome, Italy
  
  Selected Collections:
  
  White Rabbit Gallery,Sydney, Australia
  
  M+ Museum of visualculture,Hong Kong,China
  
  Uli Sigg, Switzerland
  
  Liu Gang, China
May 16, 2019